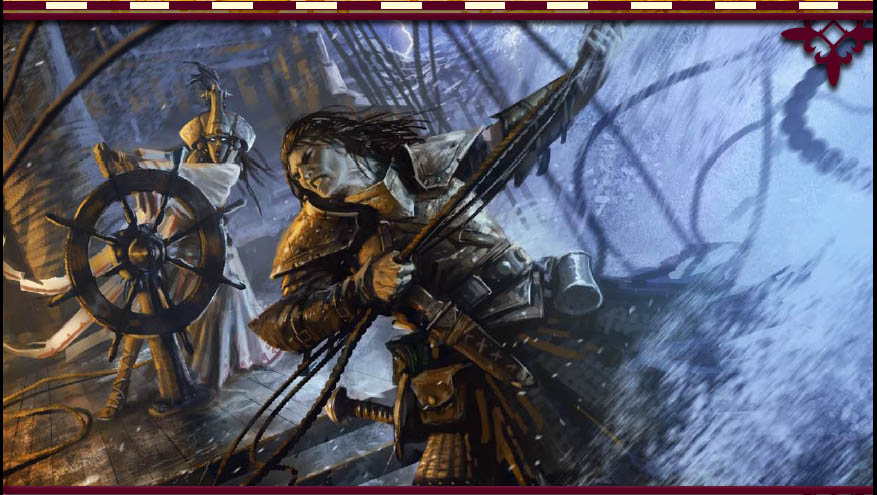 If you yearn for the smell of the clean salt air and the sour stench of boiling tar, and desire the opportunity to fulfill sailors' every vice, then you need look no further than Port Peril. By the nine layers of Hell, I think they've invented some vices of their own, so best take caution—you can't trust anyone in that port, and any word given by the Free Captains only goes so far. Between the thieves of Pike Street, the perfumed doxies of Scrimshaw, and thirsty sailors looking for the nearest cask of rum, you can find yourself battered, shirtless, and broke before you've even left sight of the quay.

—Xavi Narcis, first mate of the Serpent's Curse (retired)
---
Captain's Log
Two Days Since Mancatcher Cove
- Its been two days since we parted way with
Besmara's Banshee
. That was a good crew and a good captain. I have high hopes for this crew, we've already been through a lot together, and we have come away from Mancatcher Cove with a ship full of loot. That never hurts! The look out is calling now, the port of Lilywhite is on the horizon. We'll put in there for a day to sell some booty and spread our fame, but we won't stay long.
Three Days Since Lilywhite
- We arrived in Tidewater Rock late last night. Its good to be home, but it reminds me of those we've lost. Still, we needed to come here to restock and check in with my wife the Lady Agasta. I've filled her in on our adventures since we left, both the victories and the losses. She's got a head for numbers and has helped sort out our sales from Lilywhite. We made a good deal and the crew is happy with their share of the plunder. Our reputation has gone up as well, we've made a real name for ourselves. Still, I want to go to Ricket Squibs and rebuild
The Thresher
and make it our own. I know that will keep morale high. We'll leave here tomorrow. Some of the crew needs a chance to get to know home base.
---
Your first order of business after leaving Tidewater Rock is to 'squib' the
Thresher
turning her into a new ship, for all intents and purposes. Most ships that sail the Inner Sea region, such as the
Thresher
, were crafted by hand in shipyards throughout Avistan and Garund. Though ships of the same type are similar in attributes and size, they each have their own look and lines, which the practiced eye of an experienced sailor can recognize in the dark by the silhouette alone. Successfully stealing a ship and hiding it from its owners requires more than a name change and a new coat of paint - there must be a complete rebuild of the superstructures and rigging in order to change the way it looks. Such an overhaul is superficial in nature and changes none of a ship's characteristics, but it does give a ship a different appearance and lines so that even someone familiar with the original ship can only determine the falsehood after several minutes of careful study.
Changing the identity of a ship in such a way is not cheap and must be done in secret or word would quickly get out of the ship's new identity. Powerful Free Captains with their own home ports are able to do such modifications in their own private shipyards and dry docks, and captains with access to skilled carpenters and shipwrights among their crews often make such changes far out at sea away from the shipping lanes or while beached on some distant shore. But not everyone has access to those sorts of resources. As a result, a side industry of sorts has grown into existence at remote locations throughout the Shackles and just beyond its borders, where captains can find discreet craftspeople willing to do the work quickly and with the promise of silence for the right price.
So, you've set course for a place known as Rickety's Squibs - a place Captain Rod has been to before. A secluded dry dock where you might just be able to get your ship "Squibbed" so it can truly be yours. Roderick knows the place, he's been there before along with a few members of the crew. So you are sailing along the Slithering Coast east. The last few days you've had a bearing of north by northeast traveling with the coast along your port side.
You are four days out of Tidewater Rock when you spy the watch tower the Captain told you to look for. Rounding the tall headland reveals a hidden cove at the mouth of a wide jungle river, its sluggish brown waters staining the waters of the blue sea like an ugly bruise. A series of docks has been built upon this estuary, with buildings concealed beneath the overhanging limbs of the jungle beyond. A wooden watchtower stands upon the promontory of the headland, carefully concealed among the trees to provide a clandestine view of the seas.