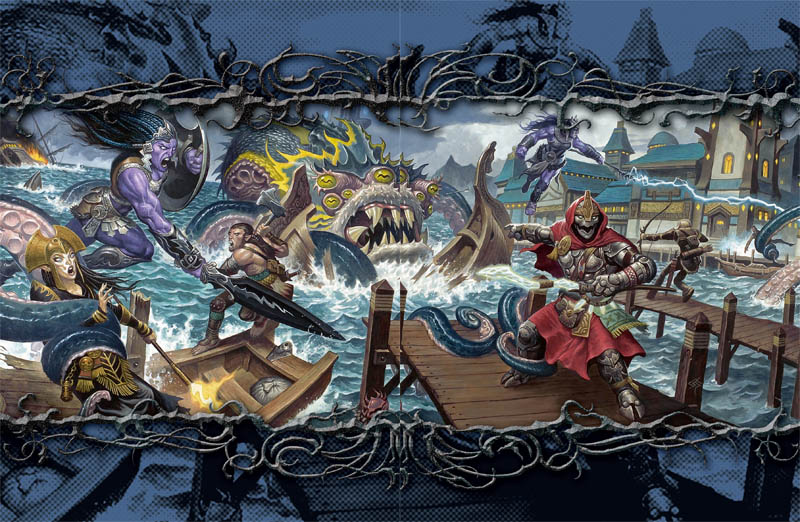 Stormreach
The mysterious continent of Xen'drik is a massive landmass that exists south of the continent of Khorvaire, beyond Shargon's Teeth and Thunder Sea. It has recently begun to be explored by agents of the Four Nations in hopes of making profit from the relics found there among other natural resources.

Hidden within the wild and untamed land are the desolate ruins of the ancient Giant Civilization. After battling the Quori the Giant Civilization was destroyed by the Dragon population of Argonnessen when they attempted to use their highly advanced devices to put down a elven slave revolt.

Aerenal Elves trace their origins to Xen'drik in the long forgotten past.

Xen'drik is now a continent mostly inhabited by drow, and degenerate Giants. It is a wild and untamed place with fabulous eldritch machines along with unimaginable treasures. It is still largely unexplored.
The Dark Continent of Xen'drik
---
One week after collecting the Shard of Greed
Its been a week since the group collected the Shard of Greed out of the bowels of The Crow. The Crow is one of a ancient pilings that holds up what is left of the ruins of the Giantspan, a massive bridge in Stormreach that leads only to the sea. Where it once went, in eons past you don't know. From that ancient dungeon the Shard of Greed was collected, and returned to the Grey Tower where Val'rrith d'Orien provided you with an ioun stone to neutralize the curse on the Shard.
Life has slowly returned to normal for the company of four members of the Grey Company, and for one new friend displaced by time and powerful magics. Over the course of the week ailments have been tended, armor has been repaired, gold has been spent, and for Jay he's undergone some tests to see if he would make a good new fit for the Grey Company and vice versa. It would seem this is the case for he has been offered a spot among the Grey Company, all he must do now is accept it.
One Shard may lead to another, the Shard of Pride lead to the Shard of Greed, and the Shard of Greed should lead to the Shard of Lust. Until this point no one has dared to use the Shard of Greed to locate the next one in the cycle for fear that once its used you will have to set out at once. Everyone needed this little break, but the break has come to a end. Its time to get back out there, its time to find the next Shard.