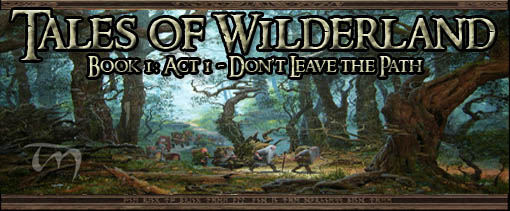 "Stick to the forest-track, keep your spirits up, hope for the best,
and with a tremendous slice of luck you may come out one day
and see the Long Marshes lying below you, and beyond them,
high in the East, the Lonely Mountain where dear old Smaug lives,
though I hope he is not expecting you." - Gandalf
In the last days of November, several days after the festival known as The Gathering of Five Armies that commemorates the defeat of Smaug and the Battle of Five Armies, you have come to the edge of Lake-town. Dale was overflowing with people from all the realms of Wilderland. The festival has some to a close, but many folks remain in Dale or have returned to Erebor or Esgaroth. The elves of Mirkwood have returned home, but Dale and Lake-town remain busy and filled with folks on their way here or there.
So you have avoided Lake-town and have found Baldor waiting for you on the road that leads out of the front gate beyond the bridge. You have signed on with him and his young son Belgo to travel through Mirkwood to the Forest Gate. Baldor has already planned the journey, although aw ell traveled companion could make suggestions. He has spoken to you of his plans and plans to meet with Elvish friends of his at the edge of Mirkwood, and these Elves will accompany the caravan up the river on paddle-boats. From the Elvenking's hall, the company will set off down the Forest Path to the west side. The caravan consists of Baldor, Belgo, and four ponies. He already has plenty of travelling supplies for the company.
Baldor awaits the company along the banks of the Forest River, planning to take a well-traveled path that runs alongside the waters.