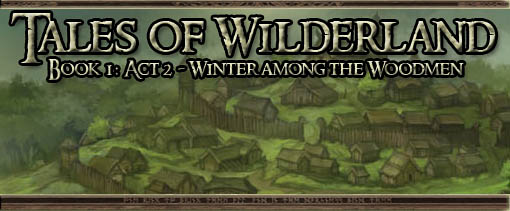 Even the good plans of wise wizards like Gandalf
and of good friends like Elrond go astray sometimes
when you are off on dangerous adventures
over the Edge of the Wild ...
May 25th, 2947 The Third Age, Late Spring
Five months have passed since you arrived in Woodland Hall. After presenting the axe shard from Wolfbiter to Ingomer Axebreaker your fellowship was welcomed into the woodmen's land with open arms. It has been an average winter here, snow comes this far south and the warm hearths of the woodmen have kept you throughout the winter months.
Your wealth, both from Baldor's caravan trip, and the reward from the council of elders has kept you living comfortably here over the last half year. The road from Woodland Hall to Woodmen-town is not to long or hard to travel, and you've explored both settlements during your stay making yourselves known in some manner or another.
News from outside the lands is scarce in the winter, as few travelers make the trip. You in fact bring much news to the area about the lands of Dale. Telling about the festival of the Gathering of Five Armies, and how envoys from Lake-town, the Woodland Realm and the Kingdom under the Mountain met in the presence of King Bard to debate matters concerning all of Wilderland.
You see one another often, but from time to time you split up on your own undertakings, all in or about the Woodmen lands. Aerth joins the Woodmen to compete on the field of heroes come spring time, while Pipkin gains access to Wuduseld again spending days if not weeks studying the carvings there. Others work their trade, enjoy the time, or seek to lift the shadow of Mirkwood that still lies heavy on their hearts.