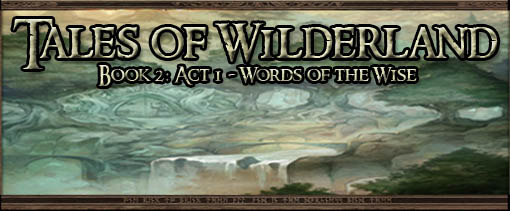 "It is not our part to master all the tides of the world,
but to do what is in us for the succor of those years wherein we are set,
uprooting the evil in the fields that we know,
so that those who live after may have clean earth to till.
What weather they shall have is not ours to rule."
May 25th, 2947 The Third Age, Late Spring
The characters have wintered at Woodland Hall following their first adventure together. They met at the Gathering of the Five Armies, where a number of young idealistic individuals congregated in the hopes of contributing to the resurgence of the Free Peoples. Adventure soon followed when they were tasks with escorting a caravan from Dale to Woodland Hall by a merchant Baldor and his young son Belgo.
The group arrived in Woodland Hall after many trials. Unsure of how to proceed, and with winter closing in around them, the company remained in Woodland Hall to see out the cold weather. The Woodmen welcomed the company to their settlement and gave them shelter over the winter. Idle would be the wrong word to use about the days of the fellowship in Woodland Hall. Now however with the promise of spring it is time once more for men and elves and dwarves and hobbits to take to the world.
Having made a name for themselves the Woodmen ask the company to help them gather in some food on one of the many hunting expeditions setting out into Mirkwood.
As the various hunting parties gather inside the gates of Woodland Hall's wooden palisade, a crowd gathers to celebrate the occasion and wish for a bountiful day. Children laugh and scream as they chase each other through the assembled throng. Dogs bark in excitement, eager to be off. Woodsmoke adds a pungent texture to the crisp morning air.
In front of the gates, the chiefs of the village's most prominent families draw their conversation to a close and bid each other good hunting. As they return to the parties they are leading, the gates are unbarred and swung open to the sound of hunting horns and the cheers of the settlement. The cheering continues as the Woodmen depart on the first hunt of the year. You take your places in the procession, following Amalric, the leader of your party. Once you are outside the palisade he leads you east, towards the forest.
The day is overcast and dew is thick on the grass as you approach Mirkwood. The world has the feel of having not yet fully woken up. The Woodmen seem in good spirits, competing with ever more outrageous claims of what they will be bringing back to the village at the end of the day. The hounds are racing ahead, chasing each other through the meadow, periodically returning as though demanding that you try to keep up with them.