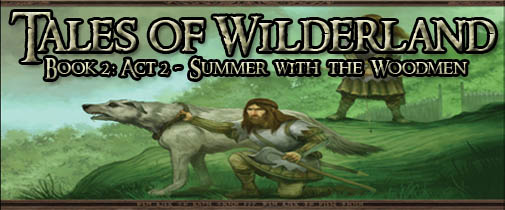 "I do not love the bright sword for its sharpness,
nor the arrow for its swiftness,
nor the warrior for his glory.
I love only that which they defend."
August 10th, 2947 The Third Age, Late Summer
It has been two months since the Battle of Woodland Hall and the great feast where first was sung the song "Saviors of Woodland Hall" in your honor. The summer months have been kind to you and to the Woodmen. Hunting has been good with the defeat of the Orcs in southern Mirkwood. Often have the Woodmen invited you on their trips into the forest. The wealth from Baldor's caravan that brought you here has slowly dwindled, but the Woodmen people are kind to you, ever being generous in remembrance for what you've done for them. The fact that Radagast the Brown has spoken highly of your actions those many months ago also still rings in their ears, and so you've lived a comfortable life among the Woodmen.
The roads are open once more and in July you said farewell to Baldor and his son Belgo, the two men return to Lake-town and Dale with another caravan of goods heading in that direction now, with a small guard of young adventurous Woodmen lads eager to see beyond their small towns and hamlets.
Trips north or south are easy enough, and the elves perhaps have ventured to see their kin. Pipkin also not the least has traveled north to the Easterly Inn to refill his pipe weed supply and get news of the Shire. Aerth finds himself able to travel freely to Woodmen Town in the south at his leisure, and perhaps together you may have sought to Rhosgobel where Radagast the Bird-Tamer spends most of his time, but has invited you to visit if you wish.
Summer is full of hope, and peace, and for a few months you are filled with both....