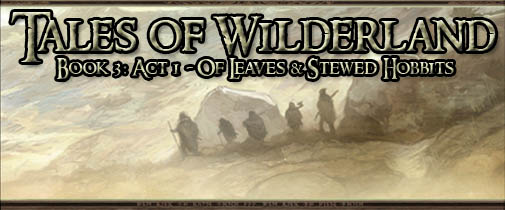 "And now leave me in peace for a bit!
I don't want to answer a string of
questions while I am eating.
I want to think!"

"Good Heavens!" said Pippin. "At breakfast?"
August 10th, 2947 The Third Age, Late Summer
It has been two months since the Battle of Woodland Hall and the great feast where first was sung the song "Saviors of Woodland Hall" in your honor. The summer months have been kind to you and to the Woodmen. Hunting has been good with the defeat of the Orcs in southern Mirkwood. Often have the Woodmen invited you on their trips into the forest. The wealth from Baldor's caravan that brought you here has slowly dwindled, but the Woodmen people are kind to you, ever being generous in remembrance for what you've done for them. The fact that Radagast the Brown has spoken highly of your actions those many months ago also still rings in their ears, and so you've lived a comfortable life among the Woodmen.
In fact Radagast the Brown has taken a bit of a shine to you, and you to him. The Bird Tamer has asked you to take a few letters north to the Easterly Inn to leave for his friend Gadalf the Grey. Since your first trip to the Inn was short and pleasant everyone has agreed to this simple task from Radagast. It is a chance to refill pipeweed pouches, get news from Erebor, and the East. Its summer, and the weather is fine, so you've packed lighter, but not without the proper supplies.
You expect the trip to take between ten and fourteen days depending on the weather and the speed that you can travel. You've know made this trek several times and that helps with your planning. Gathered at the gate of Woodland Hall you say some good-byes to the friends you've made over the last year here and put foot to path and start off north!
A few woodmen scouts lead you along the hidden road north of Woodman Hall, shaving a few hours off your travel time until you exit the eves of Mirkwood and head out into the Vales of the Anduin proper. The men turn back there waving once then ducking into the dark forest. You stride north, with a half full belly Pipkin already is worried about his next meal but he says nothing about it and instead lights a pipe as he walks. You lead your lone pony through the late brown summer grasses and you look north back the way you came only this past spring.