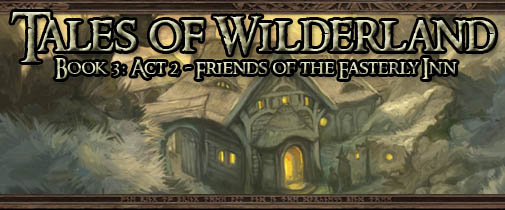 There is an inn, a merry old inn
beneath an old grey hill,
And there they brew a beer so brown
That the Man in the Moon himself came down
one night to drink his fill....
September 5th - April 9th, 2947 - 2948 The Third Age, Autumn into Spring
The autumn of the year began in the south, in Radagast's home of Rhosgobel for the small company of free peoples. The many week trip from there to the Hobbit run inn known as the Easterly Inn takes the fellowship through the lands of the Woodmen and the Beornings. The cool fall air blows cold from the north, and leaves fall from trees both in Mirkwood and without. Shepards move their flocks to sheltered pastures and farmers begin to reap what they have sown.
Winter this year is typical, snow falls in the vale, but no more than last year, and no less than next. Many months will pass as the Fellowship spends their winter season with Dindy and Dody Brandybuck at the Easterly Inn. The patrons come to know the company, and vice versa. Its a dangerous place for an Inn, it lives on the edge of a knife, but with the presence of stout hearted folk like you it may yet survive. Unbeknownst to the group their mere residence at the Inn is enough to keep a band of bandits from the north from spoiling what the hobbits have set up.
The food is good, if not too plentiful, and those not careful find themselves letting their belts out an extra notch to keep up with Agatha's good cooking. Borir finds that the dwarf Frier who also lives at the Inn and is a tinkerer himself has need of help with his small make shift forged and he extend the invitation to Borir to help him truly get it up and functioning.
The boys Bando and Rodry remind many of your families back home, and the stray dog Shadrach seems to always know who is a bit homesick and is there to keep you company.
The autumn months turn into winter months and travel becomes difficult but as always winter turns to spring and the rains begin. The great Anduin is swollen with the thawing of the snow and the rain but with its loud roar comes the hope of a new year and new adventures.