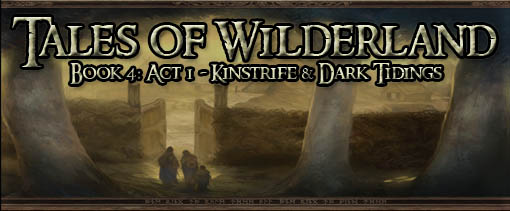 "I once saw him sitting alone on the top of the Carrock at night
watching the the moon sinking towards the Misty Mountains,
and I heard him growl in the tongue of bears:
"The day will come when they will perish and I shall go back!"
That is why I believe he once came from the mountains himself."
― Gandalf, The Hobbit, Queer Lodgings
April 9th, 2948 The Third Age, Spring
More than half the year has passed since coming to the Easterly Inn in the middle vales of the Anduin Valley. The winter months have been mild, but not without their snow, and even this late into April some snow lingers in the shaded eves of Mirkwood. However travel has started up once more and the Easterly Inn begins to see more and more patrons. Dwarves traveling from Erebor to the Blue Mountains pass through and stay at the Inn. They are pleased to find Frier and Borir there and the small forge in operation.
Beornings from the south come up for ale and songs and fellowship. Honey cakes, honey, creams and other delights from the Beornings are stocked at the Inn, and pipeweed is traded in return as the Beornings are starting to enjoy the halfling leaf more and more.
Trade with men further north in the vale trickles down as well to the Woodmen in the south where iron spear and arrow heads are traded for grains and foodstuffs that will help the northmen last out till spring finally arrives there.
Things are prosperous, Finn's keen business mind helps with trades, Pipkin's cooking and knowledge of leaf spreads the renowned of the Inn, and Borir's little smithy turns a nice profit. Wren even has been selling his little carvings, mostly to those with children back home to take to them, but the competition from the toy markets of Dale overshadows anything he provides.
It is much a day like any other today. Varuthil is watching the kids outside. They play under her gaze but don't interact with her at all anymore, having given up trying months ago. Shadrach the dog sits next to the elf maiden wagging his tail and on occasion whimpering and looking up at her as if he wants a bone or a treat.
The Inn is in shambles from a rather rowdy night last night as a quartet of dwarves passed through and drank more than their fill and ate more than their fill. The sweet stores of honey and honey cakes of the Beornings are now about spent, and the honey mead barrel is dry.
Dindy and Dody are arguing in the back room about supplies and the need for more. Dindy is not keen on making another trip to the Shire, not after what happened last year, but Dody's concerns about stock are well founded. The two argue behind closed doors but you can still just hear them if you are in the common room.
Agatha is in the common room, and sighs as she lifts a chair and rights it once again, with a few of you, cleaning up from last night...