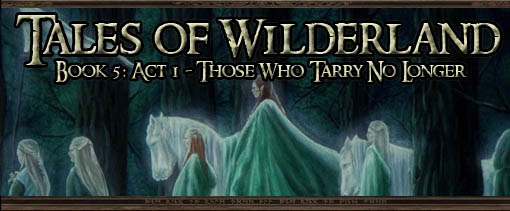 In those days there was a great building of ships upon the shores of the Western Sea; and thence in many a fleet the Eldar set sail into the West, and came never back to the lands of weeping and of war....

Yet not all the Eldalië were willing to forsake the Hither Lands where they had long suffered and long dwelt; and some lingered many an age in Middle-earth.

-The Silmarillion, Quenta Silmarillion, Ch 24, Of the Voyage of Eärendil and the War of Wrath
September 12th, 2948, The Third Age, Autumn
Long the summer seemed, and much has happened, and sundered is the Fellowship, but not for good.
Varuthil has grown restless and ready to return to her friends in Wilderland at the Inn. Yet she knows Finn and Tom are due to pass through Mirkwood soon, and they have arranged to travel together. She doesn't have to wait long, for on the 12th of September her friends arrive in the Halls of Thranduil ready to make the trip westwards. The three friends greet each other with smiles and talk of leaving at first light on the next day. Varuthil invites the two Men to join her for dinner and a final comfortable night within the halls.
The trio is finishing up dinner....