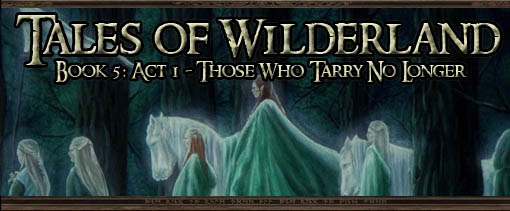 By the afternoon they had reached the eaves of Mirkwood, and were resting almost beneath the great overhanging boughs of its outer trees. Their trunks were huge and gnarled, their branches twisted, their leaves were dark and long. Ivy grew on them and trailed along the ground.

The Hobbit, Ch 7, Queer Lodgings
Aerth has wandered the southern lands, among the Woodmen for a time, then to the Old Ford, then up through the Beorning Lands and stayed with Beorn for a time. As autumn has begun the Half-elf turned north eager to see Borir and Pipkin again. By the early days of September he had returned to the Easterly Inn.
Pushing open the door to the common room, the wanderer is greeted to the sights and sounds of the place. Children playing with the dog, hobbits arguing in the kitchen over spices, and the ring of of the simple forge out back.