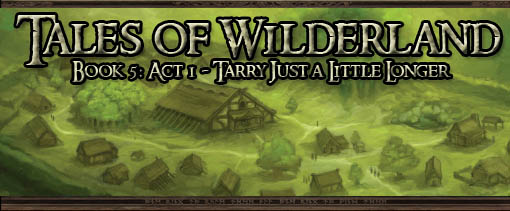 'Indeed,' said Glóin, 'if it were not for the Beornings, the passage from Dale to Rivendell would long ago have become impossible. They are valiant men and keep open the High Pass and the Ford of Carrock. But their tolls are high,' he added with a shake of his head; 'and like Beorn of old they are not over fond of dwarves. Still, they are trusty, and that is much in these days.'
September, 2948, The Third Age, Autumn
-- to --
April, 2949, The Third Age, Spring
Rhosgobel is a good place to rest, the power of the Brown Wizard is on the village, and peace is here both for body and spirit. The village is filled with Woodmen, friendly and kind, and many of whom you've had dealing with in the past on ventures here including Beran Radagast's man who assists you in getting a place to live while you are in town.
The Brown Wizard sets off for two months after your arrival, sending word from time to time through his animal friends, but the ways of wizards are complicated, and beyond your control. Where he's off to and what he's doing he tells little of to you even when he returns.
Before the snows set in for winter some of the Fellowship decides to head north, back to the Brandybucks of the Easterly Inn to help tend to the place over the difficult months in snow. You are able to bring supplies from Rhosgobel, but even more from Woodland Hall and Woodman Town on your return trip. Along the way you pause among the Beornings, and get to know a young man by the name of Belaran who assists you while in the steadings near to Beorn's Hall.
The winters holds out until late November, giving everyone ample time to travel, but when it does finally arrive it is a winter to behold. The snows are deep and constant, and the river edges freeze over in parts, but the Great Anduin never completely freezes. You reconnect with Tom at the Inn, and it seems some soft beds, good ale, and many a pipe have lifted his spirits and his mood. The Easterly Inn doesn't see much traffic this winter season, which could prove troublesome for Dindy and Dody, the hobbits that run the place.
Yet you are there, and that may turn the tide. Winter winds on for months, but starts to break in March, and by April the land are flooded with snowmelt, and the Anduin is swollen over its banks to the point of causing flooding down river. Word of several farmsteads too closer to the river being swept away in the Beorning lands come up to the Inn.
By April, the spring rains have added to this trouble, but the winter is faded, and the spring flowers promise to bloom like dragon's fire.