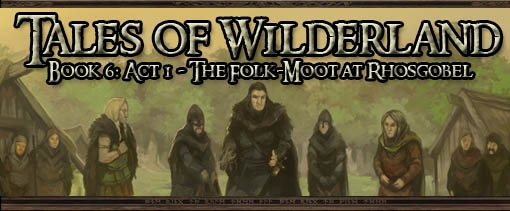 ...they dwelt largely in scattered homesteads and villages, and if they drew together into small townships they were poorly defended, at best by dikes and wooden fences. Also they were lightly armed, chiefly with bows, for they had little metal and the few smiths among them had no great skill.

-- The Peoples of Middle-Earth
April 3rd, 2949, The Third Age, Spring
Outside the storm continues to drop its rain on the region. The snows of winter have mostly melted, but in dark places it lingers; like below the eves of Mirkwood Forest. The spring rains have started and have washed away much of the white snow leaving behind the brown of mud and the promise of green to come. Tonight a good storm has come driving all the locals into the Easterly Inn's main room tonight. The winter months have been good here, the Brandybucks, with the help of Finn and Borir have expanded a few portions, and have done good trade from the smithy and of rooms to rent.
Tonight a half dozen travelers spend the night out of the rain, with heavy plates, and draining mugs.
Three of that company are dwarves from the Blue Mountains heading home from Erebor. They have parked out in the stable a loaded cart with goods for trade. Their faithful hound sleeps in the shelter with the wagon to act as alarm if anyone dares to steal from them. Dindy has assured the dwarves they have no fear of theft and that the poor dog should be brought in, but they will hear none of it. Despite this they have proven good guests, with deep pockets, and many good tales to tell. From them comes the rumors of trouble between Dale and the Woodland Realm this last winter. It would seem some men cut down some silver beeches and have stirred up trouble.
Guest too in the Easterly Inn are a pair of Leofrings. They are tall men, blonde hair, and grim faced. Two fine horses sit inside the stables around the back, horses which they hold in high regard. They have spoken little since their arrival. Only enough for you to have learned they are traveling north on some errand and plan to leave when morning arrives.
The sixth visitor tonight is a Beorning man, Beleran the Dream Runner, seems to be his name. He came north a week ago with trade goods from Beornings. He is both fierce and willful, but he has caused no trouble and the matters of his trip have mostly been resolved. He's brought some rumors of slaughtered livestock of the Beornings that strayed too close to Mirkwood this winter.
The fellowship has gathered once more here from around the Vale. For many months Varuthil stayed in Rhosgobel with Rathar. That was not long ago when the Brown Wizard handed the pair a letter, "Take this north to the Easterly Inn. Give it to Gandalf when you see him, and see him you will if I know the Grey Pilgrim at all. Rumor of his travels have come to me, and I wish for him to have this. He won't miss the chance to sit and have some Hobbit cooking and a pipe there among your friends. Afterwards, when you have done this return to me. All of your company. Rathar will know this, but perhaps Varuthil you will not. At the start of each summer the Woodman folk gather for a Moot here in Rhosgobel from all their Houses. Traders and merchants, and envoys of the other Free Folk are welcome to attend. I would have you present this year, you have done much for the Woodmen, and I think it would do them good to see you there to remind them they do not stand alone in Wilderland." He then goes off again, but he adds at the last, "Return no later than the first of June!"
So it was that Varuthil and Rathar traveled north to join Finn, Borir and Pipkin at the Easterly Inn.