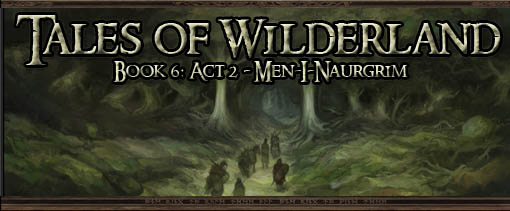 At that point there was a deep ford ... and beyond that a track led to the skirts of the wood and to the entrance of the old forest road.

But Beorn had warned them that that way was now often used by the goblins, while the forest-road itself, he had heard, was overgrown and disused at the eastern end and led to impassable marshes where the paths had long been lost.

The Hobbit, Ch 7, Queer Lodgings
April 21st, 2949, The Third Age, Spring
You have parted way with Pipkin & Beleran, and Rathar has gone off into the wood to scout the way. That leaves you standing before the opening to the Old Forest Road, the Dwarf Road of old. Bofri stands with a great smile, with him is Brok Ironfist and Nalir, dwarven kin of his. Finn and Varuthil stand listening as Borir boasts of the quality of his kin.
Varuthil has her ear turned to the rustling of the leaves listening to the forest as it sings.
About ten minutes later Rathar returns.