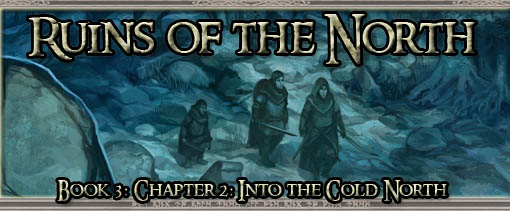 'We have come too far to the north,' he said, 'and we must find some way to turn back southwards again. If we keep on as we are going we shall get up into the Ettendales far north of Rivendell. That is Trollcountry, and little known to me.'
---
April 30th, Two Days Since the Barrow and the Breaking of the Fellowship
A long spur juts out of the western Misty Mountains, far into the north. For a hundred miles its slopes spread out and curve northward, as if to point to the ruins of accursed Angmar where the Witch-king once dwelt. The tallest, most jagged, most threatening peak in this spur is Mount Gram, a horn of rock rising from the slopes of other mountains as if they collapsed under its weight. Thousands of years ago it was delved and fortified by Dwarves, but it is now a home to monsters in a blighted land.
Deep beneath its roots is a Goblin fastness, a complex maze of a thousand holes and pits. For centuries, the Orcs of the Misty Mountains inhabiting Mount Gram have bitterly fought against the Rangers guarding the regions to the west of the Ettenmoors, the Coldfells and Trollshaws, and against the guardians of the hidden sanctuary of Imladris. Out of its gates issued the invading army that was defeated centuries ago at the Battle of Greenfields, when a Hobbit muster led by Bandobras Took, the Bullroarer, routed the Goblin horde of King Golfimbul.
For two days you have been struggling among the foothills of the Misty Mountains. Your pace has been slower than normal, as the weight of loosing Nimroyn and Perrie both has slowed you. You have wandered north and west slightly considering your options. A great spur of the mountains races west, directly in your path, and you have had more than one conversation about the best way to go. Do you seek a pass over the mountains north, or do you go west around it, near to Mt. Gram and the dangers of that place. It is a gloomy day as you march forward, and a cold mist gradually descends from the mountains spreading forth like probing, ghostly fingers across the ground. A head a lightly wooded hill offers a chance to take stock of your surrounding above the fog.
You climb the hill easily to find a barren patch of ground in the shape of an imperfect circle. The rock and dirt are a smoky grey, as if an intense fire had burned there in ages past.