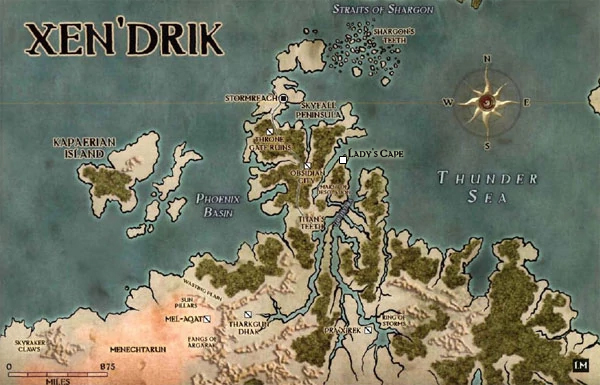 The Dark Continent of Xen'drik



The mysterious continent of Xen'drik is a massive landmass that exists south of the continent of Khorvaire, beyond Shargon's Teeth and Thunder Sea. It has recently begun to be explored by agents of the Four Nations in hopes of making profit from the relics found there among other natural resources.

Hidden within the wild and untamed land are the desolate ruins of the ancient Giant Civilization. After battling the Quori the Giant Civilization was destroyed by the Dragon population of Argonnessen when they attempted to use their highly advanced devices to put down a elven slave revolt.

Aerenal Elves trace their origins to Xen'drik in the long forgotten past.

Xen'drik is now a continent mostly inhabited by drow, and degenerate Giants. It is a wild and untamed place with fabulous eldritch machines along with unimaginable treasures. It is still largely unexplored.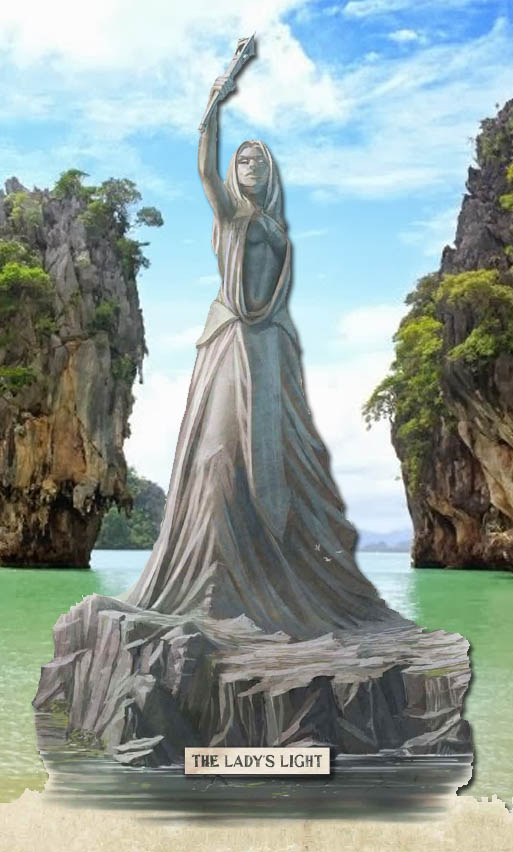 ---
The long trip from Stormreach into Xendrik actually went pretty well. A few dangerous encounters along the way were nothing compared to getting lost if you didn't have your guide Jasper. Jasper is an old man, a priest of the Soverien Host, and certifiably insane! Still he go you to the Lady's Cape. From there you met with the 'friendly' hermit Maroux, and after a minor task for her she shared her knowledge of the cape with you; mostly to get you to leave her alone. The Grey Company explored the region only until finding the Troglodyte caverns, and after a fight or two freed the rest of the Trogs from their oppressive leaders and made peace with them, even some trade deals are in the works to bring rare plants to Nirus back in Stormreach.
The Trog's, thankful for your help, send you under the lagoon through old tunnels to a strange chamber guarded by living statues. After defeating them you leap, climbed, and floated down a dark shaft into the chambers of the Lady's Light.
One by one you eventually made it down the pit either by leaping into the darkness or using the rope, either way you entered into utter black, complete silence, and a near weightlessness as you floated down to the entrance chamber of the Lady's Light.
The ceiling of this grand hall is made of polished gray marble. It rises to a height of twenty five feet, supported by ornate columns whose central eight-foot-sections have been carved to resemble a beautiful woman. A ten foot square platform sits in a wide alcove on the north wall, atop which lies a white marble sarcophagus with a painted lid. The sound of gently running water echoes along the hall to the west. From the ceiling glass orbs, with magical light provides bright light in the chamber.
A broken, headless, statue lays on the ground at the bottom of the passage.